Beautiful, Durable, Faux Stone, Brick and Wood | 3D Wall Panels
WALL PANELS |
MODERN DESIGNS |
17+ COLOR ADVANCE MODULAR DESIGN SYSTEM
Why use Green Ecological Panels?
Our collection of Wall Panels is manufactured from technologically advance high density stone & plastic compound that offers a variety of unique features & benefits that Includes:
- Save Money
- Easy Installation
- Natural looks
- Durable
Wood Panels

Real Wood Panels

Cedar Wood Panels

Manufacturer Wood Panels
Rock Panels

Hand Cut Rock Panels

Culture Stone Panels

Stack Stone Panels
Brick Panels

Hand Laid Brick Panels

Volcano Brick Panels

Stone Panels
Avoiding the high labor cost by easily the product on your own.
Use ordinary carpenter's tools, industrial adhesive & nails etc.
Durable Construction
Detail Plan
Lightweight & durable; Interlocking will not ROT, MOLD or SPLIT.
Wall Panels can withstand extreme weather conditions, UV, Chemicals, Moisture and Algae resistance.
Choose your Color & final finish, panels can be stained to accommodate the surroundings
Very low maintenance. Mild Soap & water, Light pressure wash, repaint or stained.
Polypropylene is an economical material that offers a unique combination of outstanding physical, chemical, mechanical, thermal, and electrical properties. It demonstrates excellent resistance to corrosion, organic solvents, degreasing agents, and electrolytic attack. It is also lightweight, stain-resistant and has a low moisture-absorption rate. Polypropylene is a tough heat-resistant material up to 180°F, making it ideal for the transfer of hot liquids or gases.
Key Properties
Chemical/corrosion resistance

Low moisture absorption

Low cost

Weldability

Lightweight
Standard Shapes and Forms
Sheet: .060" – 3" thick

Rod: .250" – 14" diameter

Other Forms: Perforated sheet, Welding rod, Angle, Threaded rod, Pipe & Fittings, Flexible Tubing
A Corrosion Guide is available on the Pipe & Fittings page and the Technical Specifications page.
The range of sizes and shapes are grade specific, please contact us for more information.
Grades and Colors
Polypropylene Homo-Polymer
Polypropylene homo-polymer is USDA/FDA, NSF and 3-A Dairy compliant in natural color for use in meat- and poultry-packaging facilities. This material demonstrates excellent impact resistance and formability, while also being lightweight. It also has outstanding chemical resistance and performs well in corrosive environments. Colors: Natural (translucent white), white and black.
Polypropylene Co-Polymer
Polypropylene co-polymer offers the same chemical resistance of homo-polymer along with the added benefit of better resistance to stress cracking at low temperatures while being more pliable.
Flame-Retardant Polypropylene
Polypropylene also is available in two flame-retardant formulations. Both offer the best overall fire-resistant qualities of any competitive FRP material. This flame resistance, however, does not come at the expense of aesthetics and high performance.
Source: https://www.aetnaplastics.com/products/d/Polypropylene
What are the Characteristics of Polypropylene?
Some of the most significant properties of polypropylene are:
Chemical Resistance: Diluted bases and acids don't react readily with polypropylene, which makes it a good choice for containers of such liquids, such as cleaning agents, first-aid products, and more.

Elasticity and Toughness: Polypropylene will act with elasticity over a certain range of deflection (like all materials), but it will also experience plastic deformation early on in the deformation process, so it is generally considered a "tough" material. Toughness is an engineering term which is defined as a material's ability to deform (plastically, not elastically) without breaking..

Fatigue Resistance: Polypropylene retains its shape after a lot of torsion, bending, and/or flexing. This property is especially valuable for making living hinges.

Insulation: polypropylene has a very high resistance to electricity and is very useful for electronic components.

Transmissivity: Although Polypropylene can be made transparent, it is normally produced to be naturally opaque in color. Polypropylene can be used for applications where some transfer of light is important or where it is of aesthetic value. If high transmissivity is desired then plastics like Acrylic or Polycarbonate are better choices.
Polypropylene is classified as a "thermoplastic" (as opposed to "thermoset") material which has to do with the way the plastic responds to heat. Thermoplastic materials become liquid at their melting point (roughly 130 degrees Celsius in the case of polypropylene). A major useful attribute about thermoplastics is that they can be heated to their melting point, cooled, and reheated again without significant degradation. Instead of burning, thermoplastics like polypropylene liquefy, which allows them to be easily injection molded and then subsequently recycled. By contrast, thermoset plastics can only be heated once (typically during the injection molding process). The first heating causes thermoset materials to set (similar to a 2-part epoxy) resulting in a chemical change that cannot be reversed. If you tried to heat a thermoset plastic to a high temperature a second time it would simply burn. This characteristic makes thermoset materials poor candidates for recycling.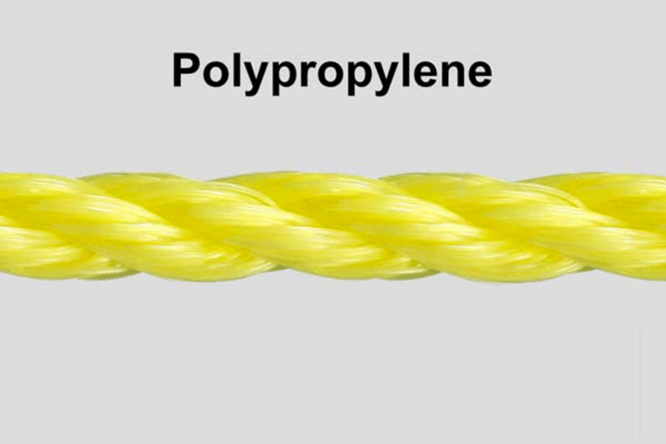 Image From AnimatedKnots.com
What are the Advantages of Polypropylene?
Polypropylene is readily available and relatively inexpensive.

Polypropylene has high flexural strength due to its semi-crystalline nature.

Polypropylene has a relatively slippery surface.

Polypropylene is very resistant to absorbing moisture.

Polypropylene has good chemical resistance over a wide range of bases and acids.

Polypropylene possesses good fatigue resistance.

Polypropylene has good impact strength.

Polypropylene is a good electrical insulator.
Source: https://www.creativemechanisms.com/blog/all-about-polypropylene-pp-plastic